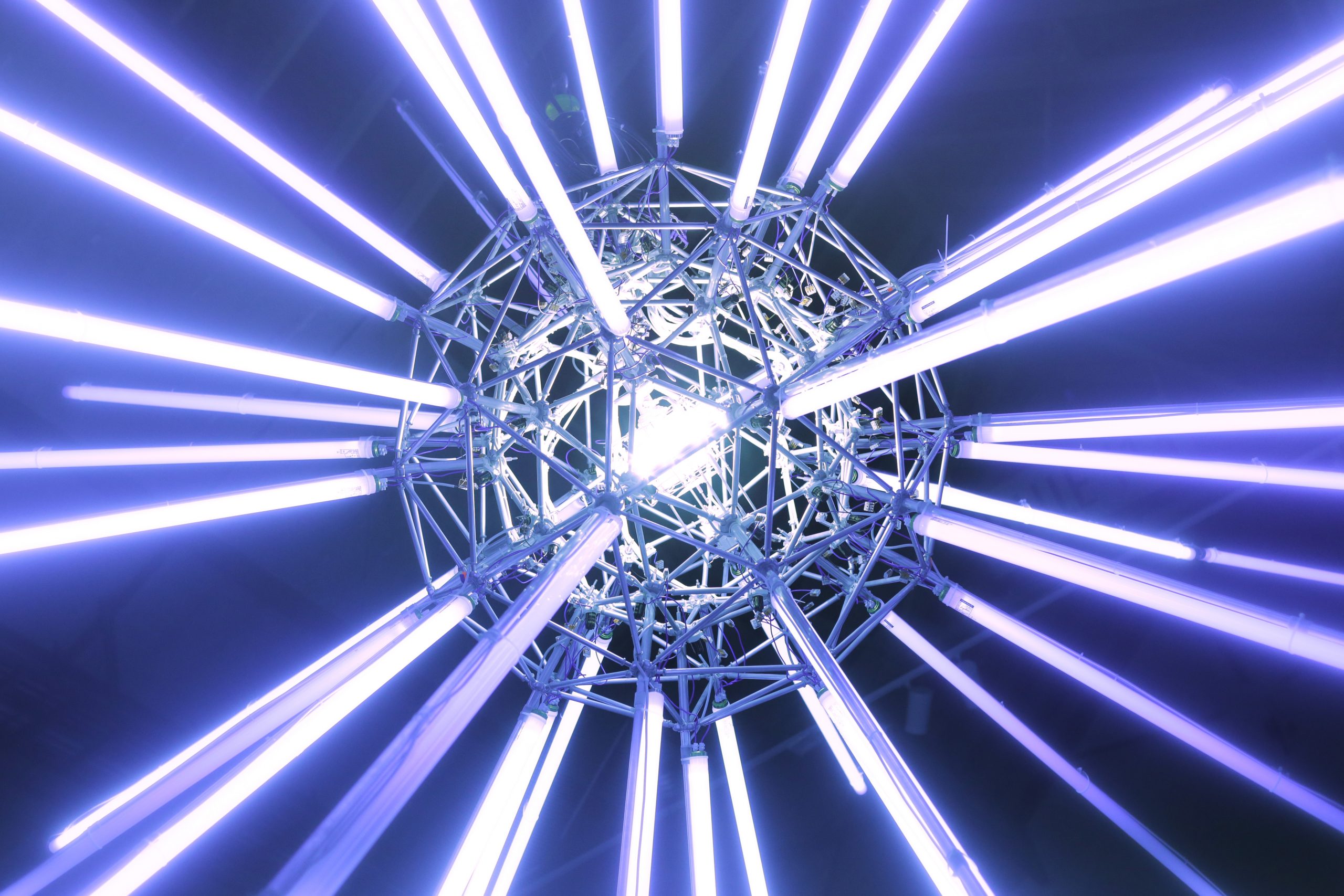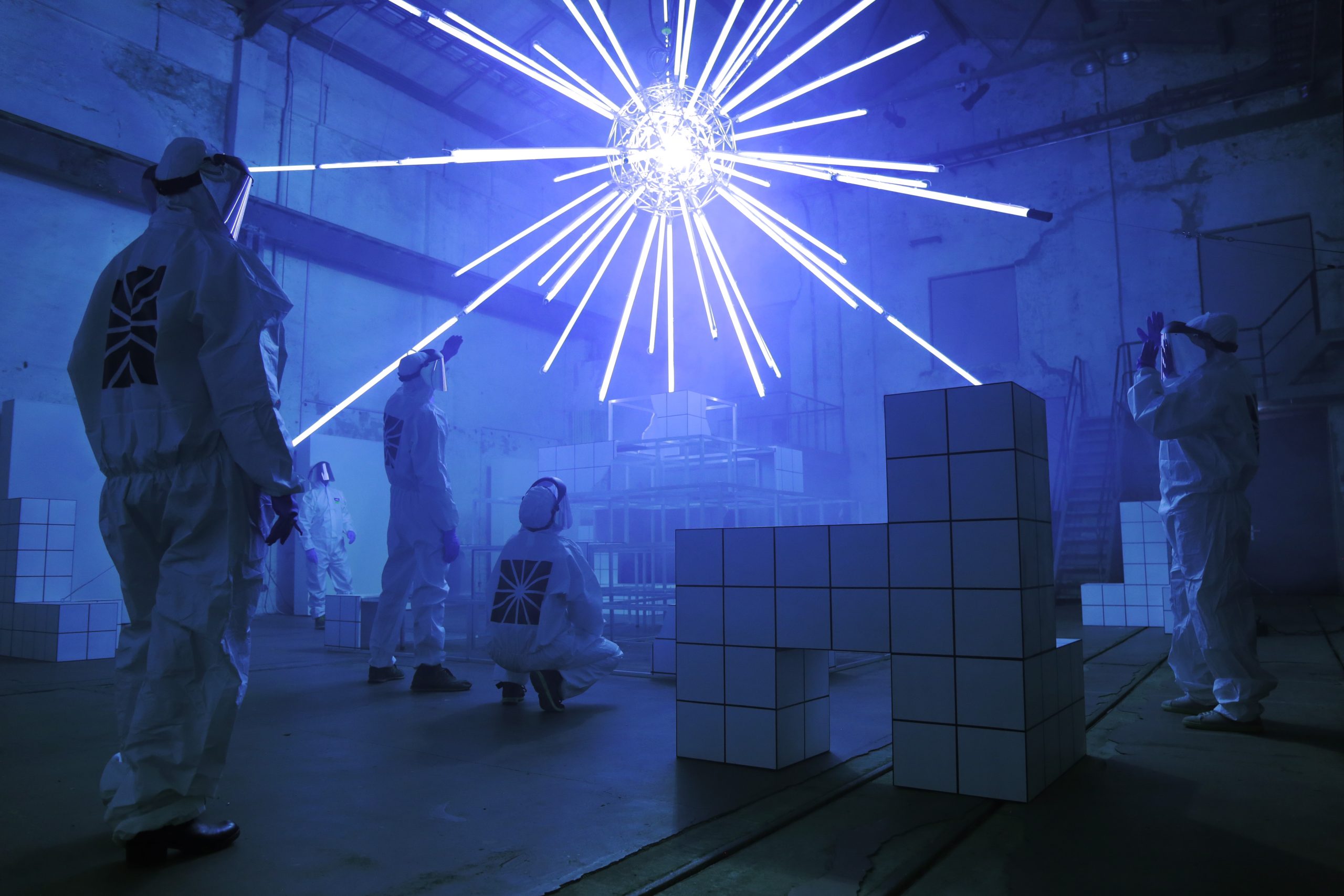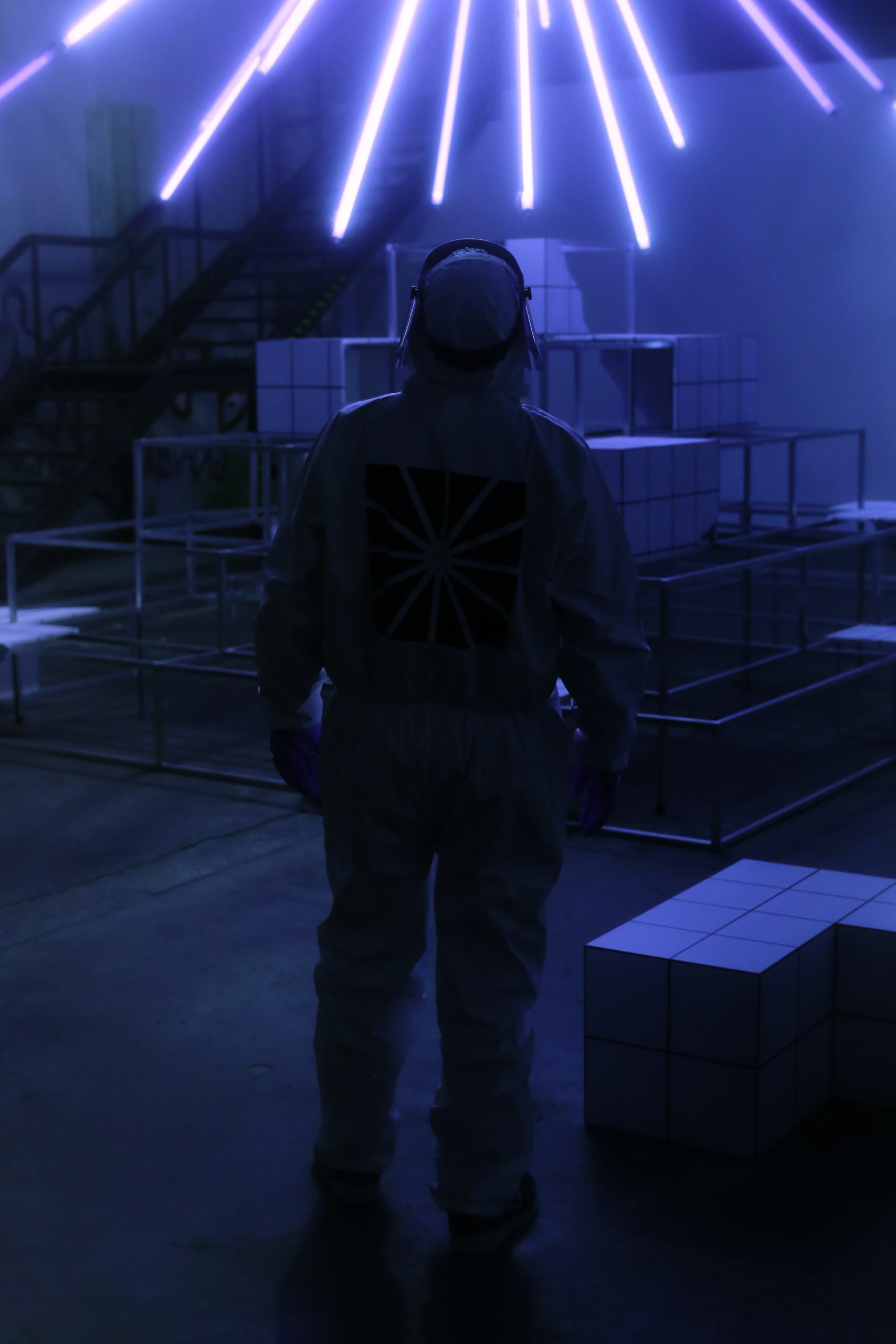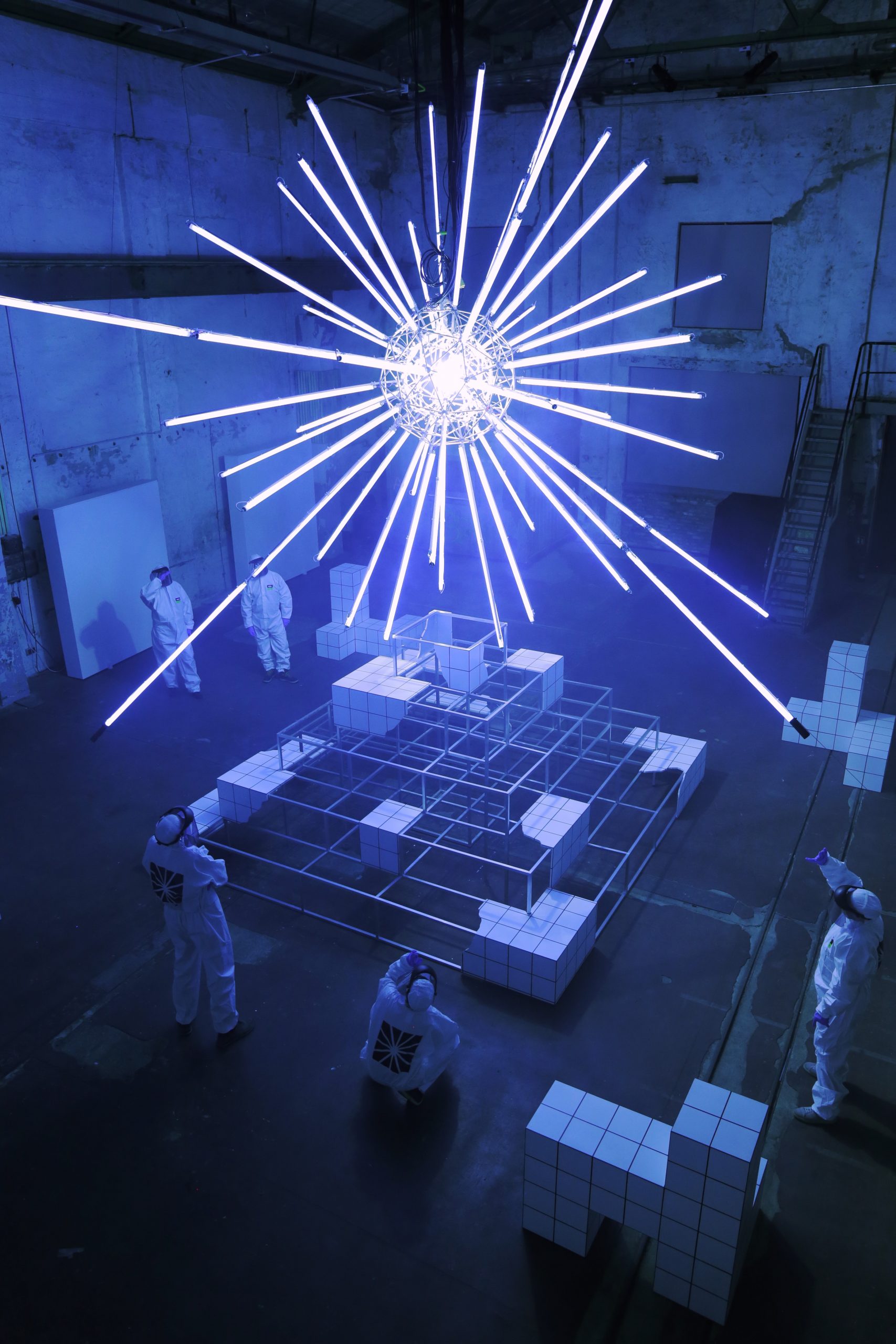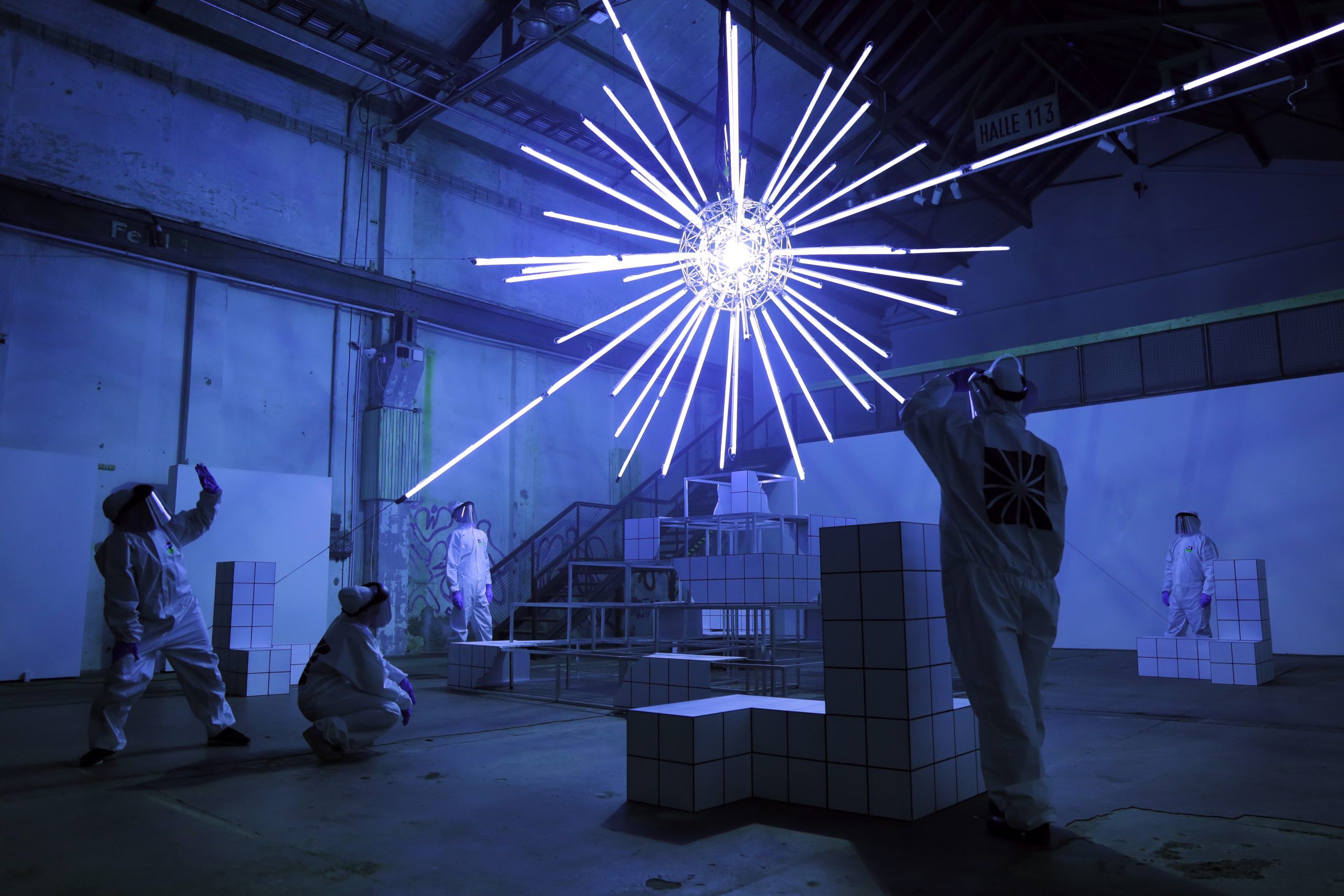 Spectrum, a dystopian scenario.
In an exhibition hall at Reinbeckhallen, Berlin, an artificial sun hovers above an abstract altar. LOW BROS in collaboration with HEIMAT Berlin x Deutsche Krebshilfe x ADP have created a dystopian, temple-like scenario to highlight the risks of using tanning beds.
The sun often takes on the role of a solar deity, and one who hasn't been forgotten within the spheres of worship. This is an insight that LOW BROS, an artistic duo consisting of Berlin-based brothers Christoph and Florin Schmidt, have worked with. "In our eyes, a tanning salon is a kind of place of worship, in which a recurring ritual takes place" says the duo. It is through their 'Spectrum' installation that this emphasis on the humanistic worship for the sun occurs. 

This solar deity continues to act as a central focal point for their installation. It is constructed out of real UV-lighting tubes that levitate from a ceiling in an ominous, industrial hall. The total of 53 tubes (100W each) hang above an abstract pyramid, a piece truly resonant of LOW BROS' artistic style. The sun emulates radiance and threat, amidst a prophetic yet prescient setting in which it is presented. The abstract altar, positioned in scattered segments below, signifies the destructive power of the sun by losing its 'skin'. With 2 geodetic spheres that consist of a total of 6900 watts of power looming above, the intensity of the UV light is so harmful to the body that visitors need to wear protective suits and UV-protection visors. This latest creation takes a danger unrecognised by many and renders it suddenly tangible to a general audience. 

"Mankind is good at only recognising wrong steps afterwards and acting accordingly. Apparently it takes time and distance for an objective analysis to take place" explains Christoph and Florin, "in addition to the emotional closeness and experience, we try to create a temporal distance in which the recipient has the feeling that they are in a excavation site." With around 37,000 people suffering from malignant melanoma annually in Germany, this installation hopes to grow awareness of such dangers –– another side to the spectrum of tanning, often believed to be relaxing leisure time for high-risk people, young adults under the age of 35. Professor Eckhard Breitbart, dermatologist and chairman of the ADP states, "a tan is never healthy; it is a stress reaction of the skin and people are damaging their health with each visit to the tanning salon.
Text by Anna Ptasinska
Photos by Dennis Schnieber